News
News from FDU Hotrunner
Whether new technologies, trade fair events or exciting new projects - there is always something going on at FDU.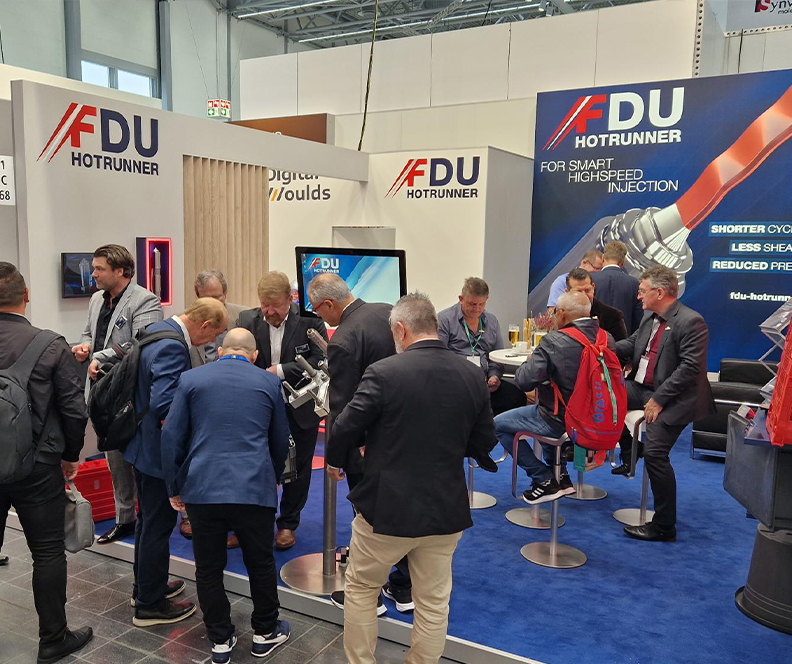 27.10.2022
FDU at K2022
From October 19th to 26th we were represented with our own booth in Hall 1 at the international leading plastics trade fair K in Düsseldorf.
The number of visitors was large and we were able to have many great and interesting discussions with existing and new customers. Thanks to everyone who visited us at the fair.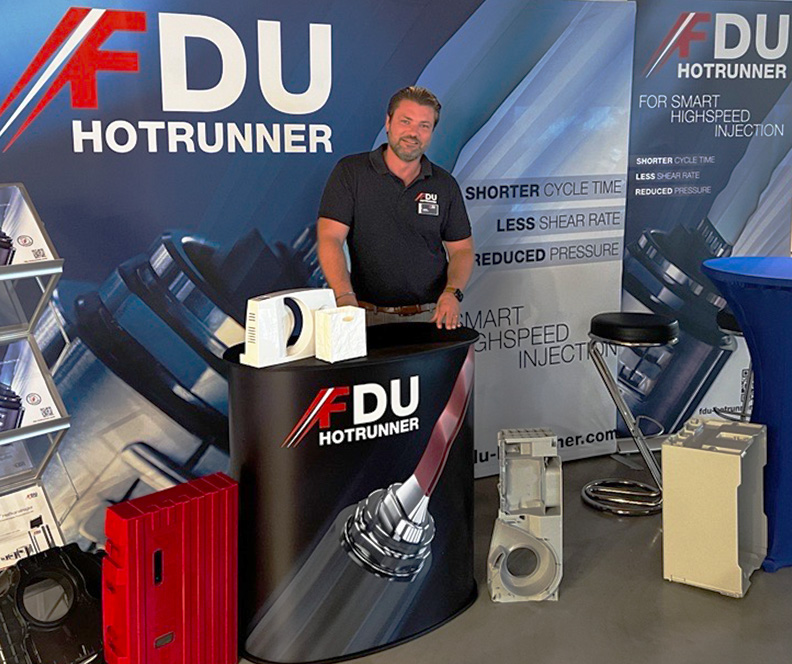 23.06.2022
FDU at 25. Engelskirchener Plastics-Technology Days
On June 23rd and 24th, the 25th Engelskirchen Plastics Technology Days of BARLOG Plastics GmbH took place in the LANG ACADEMY in Lindlar

Andre Klassen was there with an FDU booth to present and explain the FDU 'FLAT DIE UNIT' and what exactly is behind it to the visitors on site.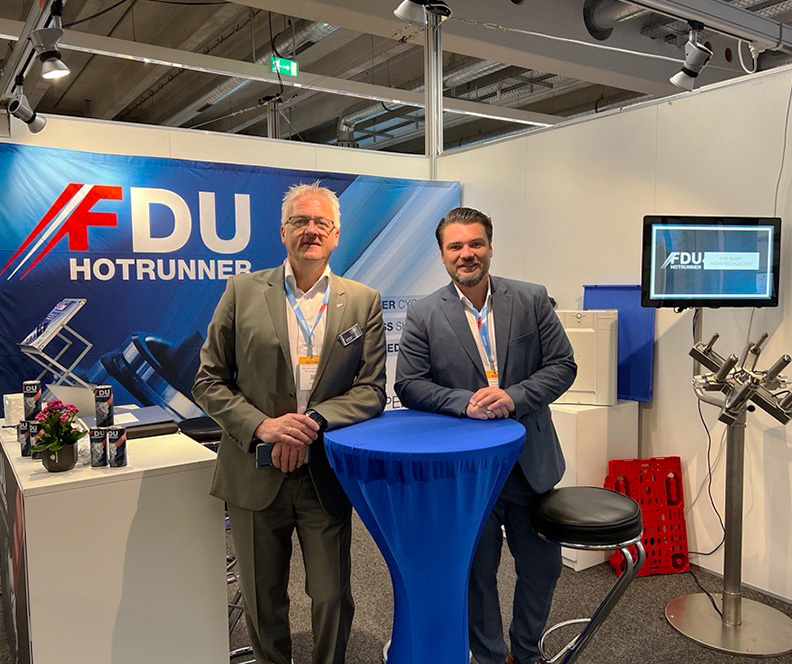 10.05.2022
FDU at Kuteno 2022
The KUTENO is already part of the annual trade fair fixture at the FDU.
We were represented with a booth from May 10th to 12th, 2022 and presented the innovative FDU hot runner technology.
As a new trade and work fair in the northern German region, the KUTENO in Rheda-Wiedenbrück is the platform for the professional expert dialogue of the entire industry. The entire process chain of the plastics processing industry is presented at the trade fair.
We had very interesting visitors at our stand.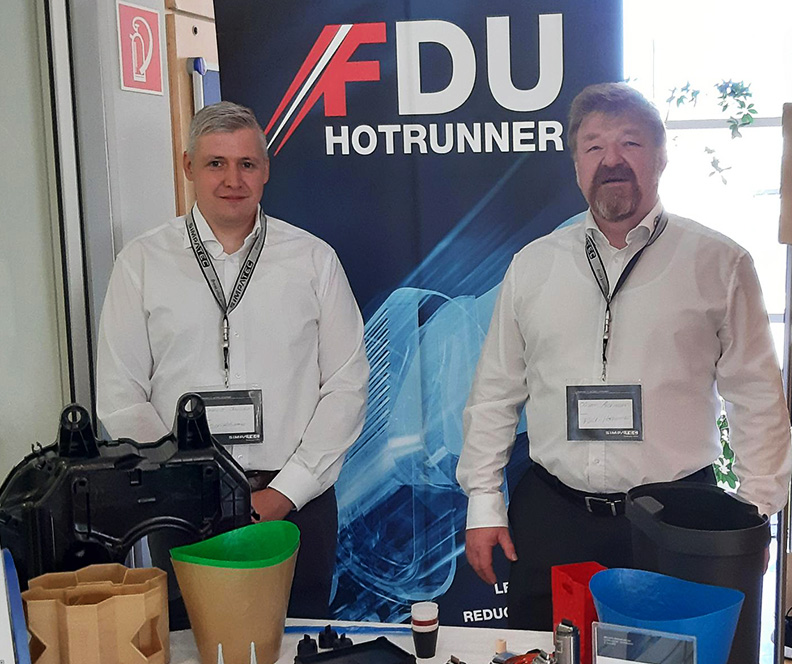 02.06.2022
FDU at MiDay Austria SimpaTec
Oliver Achauer and Dominik Oberascher presented the innovative hot runner technology of the FDU on June 2, 2022 at MiDay Austria by SimpaTec Simulation & Technology Consulting GmbH in the TIZ Kirchdorf.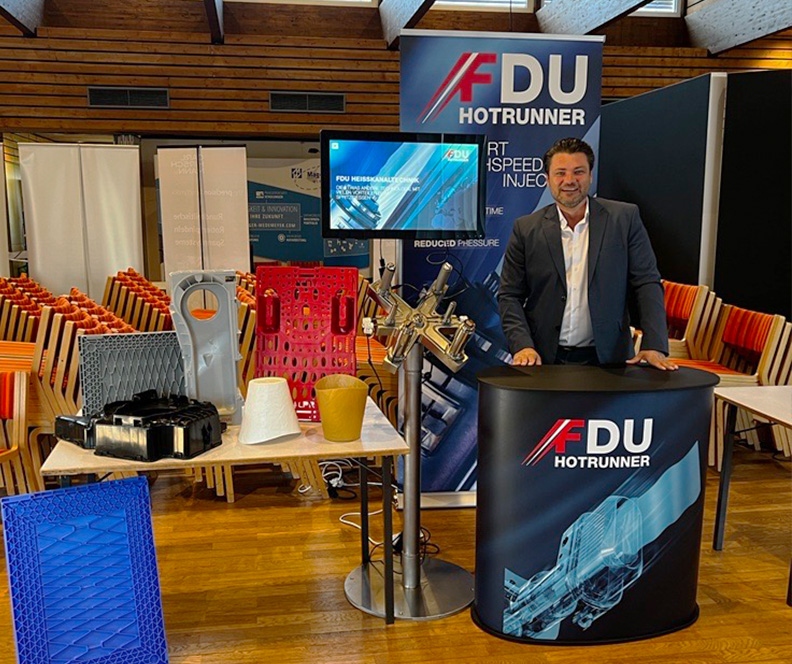 28.04.2022
FDU at 12. Hohenwestedter Technology-Day
For the first time this year, on April 28, 2022, we were guests in Hohenwestedt at the 12th Hohenwestedter Technology Day by Peter Kesterke as exhibitors and speakers.
Our North Sales Manager, André Klassen, gave the participants an understanding of hot runner technology with its many advantages and benefits in the injection molding process at the FDU booth and during the presentation on our Flat Die Unit.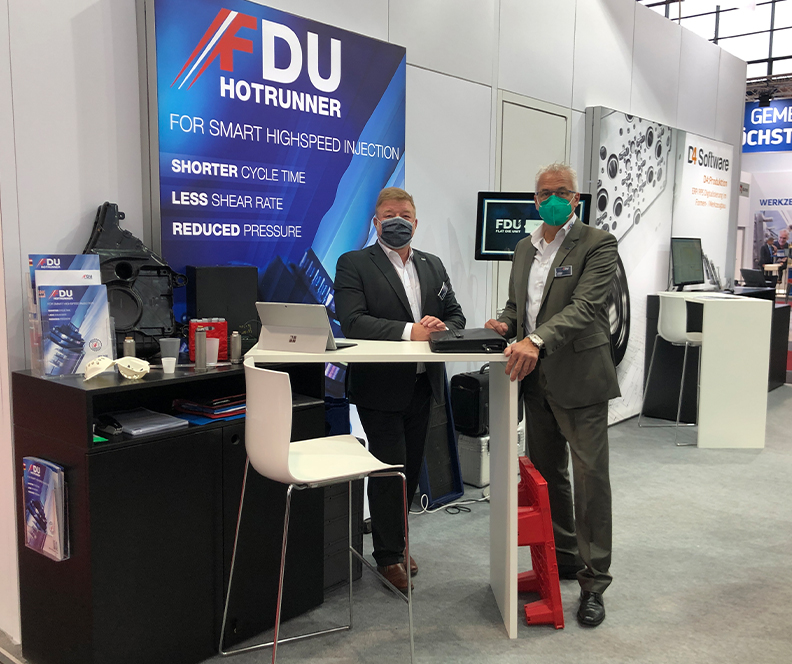 18.10.2021
FDU at Fakuma 2021
Many thanks to all visitors for the successful 27th Fakuma at Messe Friedrichshafen!
From October 12 to 16, 2021, almost 1,500 exhibitors presented their products at the world's leading specialist event for industrial plastics processing.
The Fakuma offers a comprehensive overview of all plastics technologies: Whether injection molding - here, the Fakuma occupies a leading position worldwide - extrusion technology, thermoforming or 3D printing: the user can find out about all processes and technologies relevant to plastics processing at Fakuma and tools to provide targeted information.
We were represented with FDU Hotrunner GMBH at the VDWF - Association of German Tool and Mold Makers e.V. joint stand in Hall B2 - Stand 2110 and were happy to finally meet new and old faces in nature.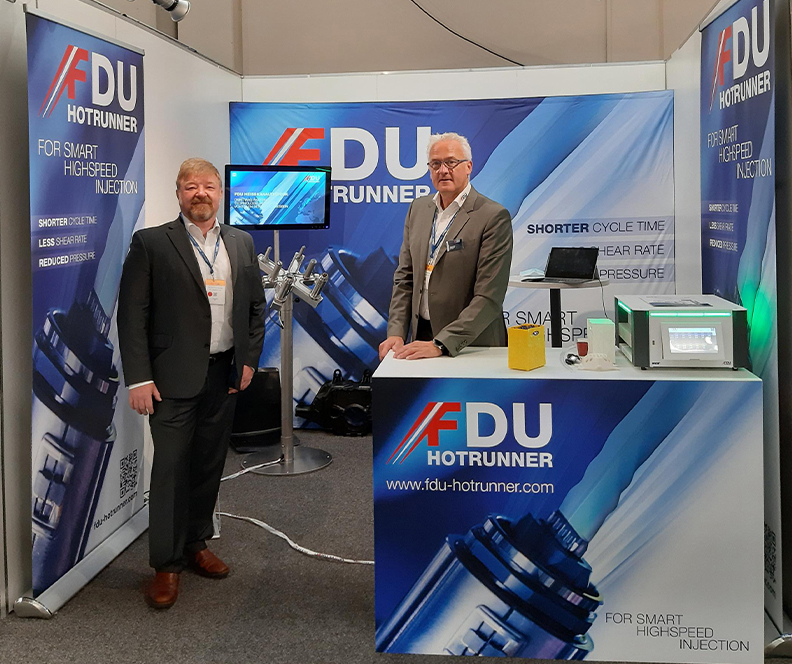 13.09.2021
FDU at KUTENO 2021
It was finally that time again, the first live trade fair after almost 2 years of the corona pandemic break !!!
As a new trade and work fair in the north German region, the KUTENO is from 07.09. until 09.09.2021 in Rheda-Wiedenbrück the platform for the technical expert dialogue of the entire industry. The entire process chain of the plastics processing industry will be presented at the fair.
A total of 254 exhibitors were represented, 236 from Germany and 18 international ones. In the 3 days a total of 2580 visitors visited the fair, of which 2315 were from Germany and 265 from abroad.
We had very interesting visitors at our stand. We will certainly be represented again with a stand at the KUTENO next year (May 10-12, 2022).
Dates
Trade fairs & events
FDU is present at numerous trade fairs and events for the plastics processing industry and mould making worldwide. We are looking forward to your visit.
Contact
achieve great things together
Get in touch with us. We will be happy to present the advantages of our patented, innovative hot runner solution for your higher productivity in a personal meeting. We look forward to meeting you!
Contact us